Travel With Street Member Doug to DC to The People's Convoy Live!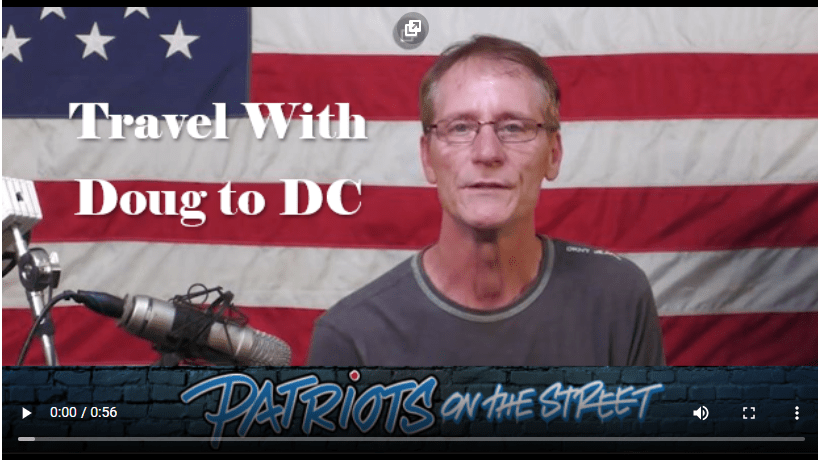 Another Exciting moment in our history is occurring as we speak! Truckers have joined together to drive across America and Canada to spread a message and demand OUR Freedoms be returned to us.
Join us as Doug White, a member of our Street Team, covers THE PEOPLE'S CONVOY arriving in Washington DC on the evening of Saturday, March 5th, 2022
This Amazing show of Patriotism and Love is touching the hearts and minds of people ALL over the world. Keep reading for more on this patriot movement and how we will bring you along to experience its power.
WHO IS THE PEOPLE'S CONVOY? 
The Peoples Convoy is made up of Truckers, moms, students, nurses, doctors, investors, county workers, teachers, cowboys, loggers, engineers, sanitation workers, professors, cashiers, flight attendants, pilots, sales reps, physical therapists, and many more patriots from all over Canada and the United States with a common goal in mind- to restore our once perfect Union, re-establish Justice, insure domestic Tranquility, provide for the common defense of all, promote the general Welfare, and secure the Blessings of Liberty.
They are demanding that THE DECLARATION OF NATIONAL EMERGENCY CONCERNING THE COVID-19 PANDEMIC BE LIFTED IMMEDIATELY AND OUR CHERISHED CONSTITUTION ONCE AGAIN REIGN SUPREME.
In addition, they want to send a message to all of our elected officials that "YOU work for US.  Our constitution was written to provide enough power to act on a national level, but not enough to deprive the people of fundamental rights.  The people are prepared to see this challenge through — as we have seen through all challenges to our Freedom in the past.  And we will prevail and prosper"
This Amazing and powerful movement began in Canada and was adopted and continued into America. More and more movements such as these are cropping up all over the world. We The People have the power we simply need to ACT and React to what is being done to us. We Need to OPEN our eyes and work to educate others about what is really going on in America and beyond. We need to work together to create a better future for our children.
Please scan this code below to Donate to Doug as He travels to DC! Donations will help towards travel and other needs so that he can bring us the latest news and intel from across the USA. 
————————–
Expected Convoy Schedule Heading to the East Coast:
Day 8: Wednesday, March 2
The truckers will pause for the day to rest in Indianapolis, IN for a second night.
Departing : Indianapolis, IN
Arriving : Indianapolis, IN
Day 9: Thursday, March 3
The convoy will get back on the road and head east on I-70 for around 250 miles to eastern Ohio.
Departing : Indianapolis, IN
Arriving : Cambridge, OH
Day 10: Friday, March 4
For the last large stretch of the People's Convoy's cross-country trek, the group will drive just over 250 miles to Hagerstown, Maryland.
Departing : Cambridge, OH
Arriving : Hagerstown, MD
Day 11: Saturday, March 5
After 11 days on the road, the convoy will drive the last 75 miles to the nation's capital to begin their protests in D.C.
Departing : Hagerstown, MD
Arriving : Washington, D.C.